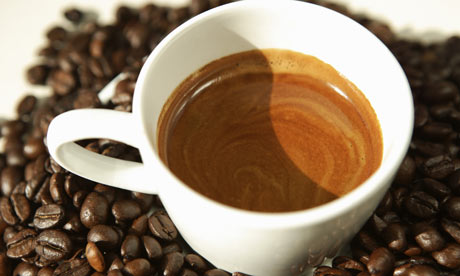 As I start this post I'm sipping my hot morning cup of coffee.
I guess the world is divided into 2 groups--"coffee or tea". I belong to the first one.
I'm not a coffee addict. But I hate tea and I have not tasted it at all or may be once ...once while trekking in Sikkim. I had to drink tea, as coffee was not available. The sad after effect was, I puked throughout. May be it was the after effect of the altitude and not tea. But then, I associate my puking with tea. So tea is totally out from my life.
My earliest memory of coffee traces back to my childhood when Pushudi made coffee every morning in a huge steel mug. She was in her 60s. A retired school inspector, she was the eternal dominating cynical aunt in the family. I was scared of her. She did not have a single 'grey' hair. It was all white. Her hair was like a bunch of white candy floss. That scared me all the more.
It was at her 'request' I was once served coffee. I hated it. Hated the idea of drinking something like a brown chocolately liquid in a huge cup. But I was so scared I could not refuse. I was around 10 years old and it was black coffee! To this day I hate black coffee. I like my coffee with lots of sugar and milk. Anything bitter, reminds me of Pushudi!
I remember when Pushudi came over and stayed with us she used to make me coffee every morning. I got so used to that aroma and the taste that I got addicted to that morning cup of coffee. I carried on the legacy for the rest of my life!
My memories of coffee takes me back to my Darjeeling trip. I remember a foggy morning in Darjeeling. I was walking down the mall with ma and we felt like having coffee. There was a coffee shop right at one corner of the mall. Keventers. That was my first trip to Darjeeling and to Keventers. But trust me it was not the last.
But then, we did not have coffee that day. We had hot chocolate with bacon sandwich. The hot chocolate flavor still lingers on and everytime we are in Darjeeling, Keventers is surely on the list. From the terrace at Keventers we watched the busy Darjeeling mall waking up to a new morning as the sun rays glittered on the snowy peaks of Kanchenjungha.

I think I associate coffee with moments more than its flavor. I remember every time during a train journey, my father asks me "Coffee Khabi" and I smile. The coffee vendor with his skilful hands pours the milk from the steaming kettle and adds sugar and coffee. He hands over the paper cups to us while my father gets busy taking out the coins. I promise to myself I wont sip the hot coffee, but invariably I do that. I always end up sipping the hot coffee that leaves a strange sensation on my tongue throughout the day. But then it does not stop me from having it. I like it everytime. Not the coffee. But the feeling.
Our neighbors were South Indians. Everytime I went to Sanju's place, Aunty asked me 'Coffee'? And I happily nodded as I loved their taste of coffee. May be it was not Nescafe, it was Bru coffee. They had a strange way of serving coffee. It was in a stainless steel glass placed in a bowl. I loved the entire experience of having coffee holding the bowl and the glass. The coffee had a different flavor too.
Well if its about coffee I cant forget the innumerable coffee dates I had with friends, boyfriends, crushes and can be crushes and casual dates. My first cafe date was with a guy and we went to Aqua Java in Elgin Road. I ended up marrying that guy later on but then thats a different story. The place has closed down. Though I was quite reluctant to go to a coffee shop with him. We had something in Mocha flavor, the first time we had coffee. Even he doesnt remember, but then we enjoyed it. Though we ended up fighting!
Later I tried a number of coffee shops. Different Barista joints, CCDs, Costa Coffee, Starbucks, Zen, though somehow Barista remains my favorite. Specially the Gariahat Barista. And yes how can I forget my Barista Blast!
Lake road CCD or fondly called Ashok er Dokan is also special. But the breakfast at Flury's with a cup of hot coffee beats any cafe joint coffee for me! Well may be I have special memories with Flury's as well.

The coffee at Compare, my previous office also deserves a special mention. The "Coffee Khete Jabi" call meant GOSSIP! Also if we were stressed out, we often consoled each other during the coffee breaks. There used to be a thousand coffee breaks during our 8 hours of work which we called 'pata lekha'. Miss the terrible coffee at Compare and the gossip sessions all the more.

This December, me and Supriya discovered a restaurant called 'The Cafe' while walking down the streets. Though we planned for Flurys , as luck would have it, it was overcrowded on 25th December morning. We were in a queue waiting behind 1000s of Flury's fanatics. So two hungry souls( we had a few jalebis only), tired after street hopping ended up at this insignificant place called 'The Cafe'. Its just close to British Council. We even decided not to spill the beans and pretend to others that we had Christmas breakfast at Flury's . This was our statement :
"Shobaike bolbo Flurys ey amra kheyechi" ! But the purely South Indian meets continental breakfast at The Cafe was not even close to Flury's at all in any possible way.

And yes how can I forget Sector 5 CCD and Barista, where me Pallavi and Supriya used to meet. I almost sneaked inside to find indifferent Supriya with that typical "You guys are always late" kinda expression on her face while Pallavi missing as usual. She is usually inside the elevator during these 'SOS' situations.

Miss u guys and that coffee and the sizzling brownie too!


However would like to mention this strange incident related to coffee:
A few years back when I went for a trip in North Bengal, we stopped at small street side shop and asked "Coffee kothay pawa jabe"--- The man was kind of half drunk it seemed. He took out a large cauliflower and said "Phul kopi ---ey to"!